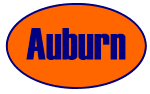 Auburn Tigers Mascot, AU Cheerleaders, and War Eagle Traditions
AUBURN TIGERS MASCOT, CHEELEADERS, AND TRADITIONS
Auburn Tigers Mascot
Aubie
Aubie is Auburn University's award-winning costumed tiger mascot. Aubie has won a record six mascot national championships, more than any other mascot in the United States. Aubie was among the first three college mascots inducted to the Mascot Hall of Fame, inducted on August 15, 2006. A popular character among Auburn fans and one of the more animated mascots in the country, Aubie has been on the job since 1959. Aubie's existence began as a cartoon character that first appeared on the Auburn/Hardin-Simmons football program cover on October 3, 1959. Birmingham Post-Herald artist Phil Neel created the cartoon Tiger who continued to adorn Auburn program covers for 18 years. Aubie's look changed through the years. In 1962, he began to stand upright and the next year, 1963, wore clothes for the first time--a blue tie and straw hat.
Auburn Tigers Cheerleaders
Auburn Tigers Traditions
Before each Auburn home football game, thousands of Auburn fans line Donahue Avenue to cheer on the team as they walk from Sewell Hall to Jordan-Hare Stadium, called Tiger Walk. The tradition began in the 1960s when groups of kids would walk up the street to greet the team and get autographs.
The intersection of Magnolia and College streets in Auburn, which marks the transition from downtown Auburn to the university campus, is known as Toomer's Corner. It is named after Toomer's Drugs, a small store on the corner that has been an Auburn landmark for over 150 years. Hanging over the corner are two massive old-growth oak trees, and anytime anything good happens concerning Auburn, toilet paper can usually be found hanging from the trees.
The War Eagle legend started during the Auburn-Georgia football game in 1892. In the stands that day was an old Civil War soldier with an eagle that he had found injured on a battlefield and kept as a pet. The eagle broke free and began to soar over the field, and Auburn began to march toward the Georgia endzone. The crowd began to chant, "War Eagle" as the eagle soared. After Auburn won the game, the eagle crashed to the field and died but, according to the legend, his spirit lives on every time an Auburn man or woman yells "War Eagle!"