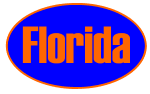 Florida Gators Mascot, UF Cheerleaders, and Gators Traditions
FLORIDA GATORS MASCOT, CHEELEADERS, AND TRADITIONS
Florida Gators Mascot
Albert and Alberta
With the state of Florida being home to an estimated one million alligators, the American Alligator was chosen as the mascot to represent the University of Florida in 1911. The official costumed mascots of the Florida Gators are Albert and Alberta.
Florida Gators Cheerleaders
Florida Gators Traditions
The University of Florida marching band that performs at halftime and after big plays during the football season is known as "The Pride of the Sunshine."
"Orange and Blue" is one cheer that is very popular at home games, with the student section yelling "Orange!," and the alumni section answering back with their loudest "Blue." This can go back and forth for several minutes, with both sides competing to be the louder one.
A Florida Gator tradition--at home and on the road--is when Gator fans link arms and sway, singing We are the Boys after the end of every third quarter.