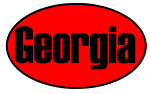 Georgia Bulldogs Mascot, UGA Cheerleaders, and Georgia Bulldog Traditions
GEORGIA BULLDOG MASCOT, CHEELEADERS, AND TRADITIONS
Georgia Bulldogs Mascot
Uga VI
Uga (pronounced UH-GUH) is the name of a lineage of white Bulldogs owned by Frank Seiler, which have served as the mascot of the University of Georgia since 1956. The dogs, tended by members of the Seiler family, are present at every Georgia Bulldogs home American football game, most away games, and many University-related functions. Uga wears a spiked collar and a red jersey with varsity letter. Uga is very, very friendly and loves to lick children who attend the games. His jersey is made from the same fabric as the players' official game jerseys. Uga is even issued an official student identification card. Uga travels in style in an air conditioned dog house, as the breed is susceptible to heat stroke. In addition to Uga, a person in the costume of a bulldog in football gear also performs as "Hairy Dawg" on the sidelines at University of Georgia football games.
Georgia Bulldogs Cheerleaders
Georgia Bulldogs Traditions
The ringing of the Chapel Bell after a Georgia victory started in the 1890's when the playing field was located near the Chapel and freshmen were compelled to ring the Chapel's bell until midnight to celebrate the victory. Today, freshmen are no longer required to do the chore, with students, alumni, and fans taking their place.
"How 'Bout Them Dogs" is a slogan of that first surfaced in the late 1970's and has become a battle cry of Bulldog fans. The slogan received national attention and exposure when Georgia won the national championship in 1980.
The Dog Walk is a tradition that was revived in the 2001 season that features the football players walking through a gathering of fans on the way to Sanford Stadium.