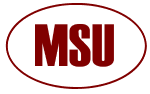 Mississippi State Bulldogs Mascot, MSU Cheerleaders, and Bulldogs Traditions
MISSISSIPPI STATE BULLDOGS MASCOT, CHEELEADERS, AND TRADITIONS
Mississippi State Bulldogs Mascot
Bully
Newspaper reports of a victory in the early 1900's commented on the 'bulldog' style of play by the football team, and the Bulldog was soon publicly accepted as a school mascot. Accounts of a 1926 pep rally in Meridian, had a bulldog parading with students. Use as an official game mascot began in 1935 when coach Major Ralph Sasse, on orders from his team, went to Memphis, to select a bulldog. Ptolemy, a gift of the Edgar Webster family, was chosen and the Bulldogs promptly defeated Alabama 20-7. A littermate of Ptolemy became the first mascot called Bully shortly after Sasse's team beat mighty Army 13-7 at West Point that same year, perhaps the greatest victory in MSU football history. But Bully I earned other fame the hard way, in 1939 when a campus bus cut short his career. Days of campus mourning followed, as Bully lay in state in a glass coffin. A half-mile funeral procession accompanied by the the Famous Maroon Band went to Scott Field where Bully was buried under the bench at the 50-yard line. Other Bullys have since been buried by campus dorms, fraternity houses, and also at the football stadium. For years Bully was a target for kidnappers, the last incident occuring prior to the 1974 MSU-Ole Miss game. While early Bullys once roamed campus freely or lived in fraternities, today the official university mascot is housed at the College of Veterinary Medicine when not on duty at State home football games.
Mississippi State Bulldogs Cheerleaders
Mississippi State Bulldogs Traditions
Cowbells are a significant part of any Mississippi State University experience. The tradition began after a jersey cow wandered on to the football field in the early 1900s, disrupting a game. Subsequently, State won the football game, and the cow became a symbol of good luck. Eventually, the cow was replaced with just the cow bell. Handles were welded onto the bells to ease ringing, and cowbells are now manufactured and sold specifically as athletic noisemakers. Clanging cowbells rung by many of the State fans is a part of the tradition of MSU football games, despite the Southeastern Conference's banning of artificial noise-makers.
On November 15, 1895, the first Mississippi A&M football team was preparing for a road trip to Jackson, Tenn., to play Southern Baptist University. Since every college was supposed to have its own uniform colors, the A&M student body requested that the school's team select a suitable combination. Considering making this choice an honor, the inaugural State team gave the privilege to team captain W.M. Matthews. Without hesitation Matthews chose Maroon and White.