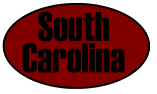 South Carolina Gamecocks Mascot, USC Cheerleaders, and Gamecocks Traditions
SOUTH CAROLINA GAMECOCKS MASCOT, CHEELEADERS, AND TRADITIONS
South Carolina Gamecocks Mascot
Cocky
Cocky is the costumed mascot of the University of South Carolina Gamecocks athletics teams. He represents a cartoon version of a gamecock. The current version of Cocky made his debut at the Homecoming game of 1980. He was portrayed as the son of Big Spur, a large barn yard rooster that had been attending games since 1978 as an unofficial mascot of the university. Cocky was invited to be the official mascot of the NCAA Baseball College World Series in Omaha, Nebraska, in 1981 and 1982. He has been awarded a mascot national championship - the Universal Cheerleading Association mascot championship in 1986 and 1994 and the Capital One mascot championship in 2003.
South Carolina Gamecocks Cheerleaders
South Carolina Gamecocks Traditions
Carolina's foremost rival is Clemson University. The two institutions are separated by just over 125 miles and have been bitter rivals since Clemson's founding in 1889. A heated rivalry continues to this day for a variety of reasons, including the historic tensions regarding their respective charters along with the passions surrounding their athletic programs. The annual South Carolina-Clemson football game is the longest uninterrupted series in the South and the third longest uninterrupted series overall, first being played in 1896, and having been played every year since 1909.
At the turn of the 20th century , after struggling for more than decade under different nicknames, the USC football team was first referred to Gamecocks. In 1903, Columbia's morning newspaper, The State, used the term and South Carolina teams have been Gamecocks ever since. Those early teams must have been a feisty and spirited group. A gamecock, of course, is a fighting rooster known for its spirit and courage. A cock fight, which was a popular sport throughout the United States in the 19th century, would last until the death of one of the combatants. Cock fighting has been outlawed by most states for humanitarian reasons, but it is still held surreptitiously in many areas. The State of South Carolina has long been closely connected with the breeding and training of fighting gamecocks. General Thomas Sumter, famed guerrilla fighter of the Revolutionary War, was known as "The Fighting Gamecock."