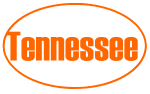 Tennessee Volunteers Mascot, Vols Cheerleaders, and UT Traditions
TENNESSEE VOLUNTEERS MASCOT, CHEELEADERS, AND TRADITIONS
Tennessee Volunteers Mascot
Smokey
Smokey is the mascot of the University of Tennessee sports teams. The Volunteers use both a live and a costumed version of Smokey. There is an actual Bluetick Coonhound mascot, Smokey IX, which leads the Vols on the field for football games. The hound is cared for by the Alpha Gamma Rho fraternity on the University of Tennessee campus. There is also a costumed mascot that appears at every Vols game and has won several mascot championships. The costumed Smokey has a female counterpart that appears at the women's athletic events.
Tennessee Volunteers Cheerleaders
Tennessee Volunteers Traditions
Newspapers referred to Tennessee as the Volunteer State during the Mexican War after Governor Aaron Brown issued a call in May 1846 requesting 2,800 volunteers for military service and 30,000 responded. A UT athletic team was dubbed the Volunteers for the first time in 1902 by the Atlanta Constitution following a Tennessee-Georgia Tech football game. The Knoxville Journal and Tribune did not use the name until 1905. By the fall of 1905 both the Journal and the Knoxville Sentinel were using the nickname.
Charles Moore, president of the university's athletic association, chose orange and white for the school colors on April 12, 1889. His inspiration is said to have come from orange and white daisies which grew on the Hill. To this day there are still orange and white flowers grown outside the University Center.
The official fight song is actually "Down the Field," which is played when the Pride of the Southland "Opens the T" for the team to run through at the end of their famous Pregame show, as well as when the Vols score a touchdown.