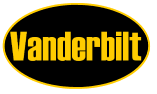 Vanderbilt Commodores Mascot, Vandy Cheerleaders, and Vanderbilt University Traditions
VANDERBILT COMMODORES MASCOT, CHEELEADERS, AND TRADITIONS
Vanderbilt Commodores Mascot
Mr. C
Vanderbilt's mascot, Mr. C, is named for Commodore Cornelius Vanderbilt, who founded Vanderbilt University in 1873. Vanderbilt's mascot is portrayed as a naval officer from the late 1800s, complete with mutton chops, cutlass, and uniform. You will see Mr. C wondering around all the basketball games and tournaments, along with some baseball games.
Vanderbilt Commodores Cheerleaders
Vanderbilt Commodores Traditions
Vanderbilt has a number of football traditions: the Commodore Creed in the football locker room; the Corridor of Captains that honors Vanderbilt's athletics history; the Star Walk with fans, cheerleaders, and the Spirit of Gold Marching Band; the Star V, an on-field formation by the marching band; the Touchdown Foghorn from a U.S. Navy battleship that sounds when Vanderbilt scores; Freshman Walk by first-year students rushing the football field before kickoff of each season's home opener; and the Victory Flag that is raised over Dudley Field after home wins.
The Vanderbilt school colors are black and gold. Opinions vary as to the reason for selecting black and gold as the colors for Vanderbilt's teams. Historians say that Commodore Vanderbilt's legacy was called upon to develop school colors for the university that bears his name: black for the magnate's control of coal and gold for his money. When questioned about the subject in the 1930s, the few remaining members of the school's first football squad from 1890 did not recall why they suddenly began appearing in black and gold. Whatever the source of the colors, by 1892, the Commodores were known by the colors that Vanderbilt fans still wear today.
The V-U hand sign is formed by extending the thumb, index, and middle fingers of the hand, the resulting shape forms a V and U. This is a relatively recent development compared to other Vanderbilt traditions.